Mini Lathe
ML-360
UNIVERSAL AND HIGHLY PRECISE MACHINING

Developed under highly sophisticated production techniques, ML-360 ensures remarkable capability comparable with standard lathes. Versatile machining is facilitated with the comprehensive range of accessories.
manual
Inquiry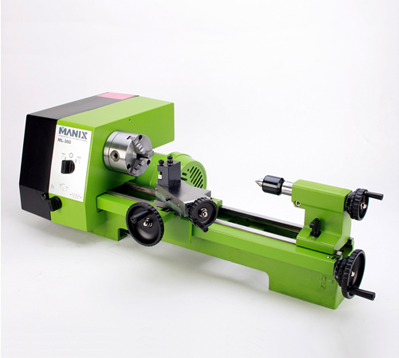 ML-360
• High Strength V-shaped casting bed
A V-shaped lathe bed manufactured by applying precision grinding.

• Powerful motor that can rotate forwards and backwards
As a powerful condenser motor is adopted, it can rotate forwards and backwards, making it easy to machine screws and to carry out automatic feed.

• High strength main spindle due to a high-precision machining process
As a high-precision grinding method and a taper roller bearing are adopted, it is
possible to realize precision machining and improvement of strength and durability.

• Tail stock with wide scope of usage
When a live center and a drill chuck are attached, machining of a work piece with a long length as well as works using taps, dies and reamers can be carried out easily.

• Maximization of the forward and backward movement over the carriage
Designed in a way that it can be used for milling works as the movement over the carriage of 85mm is maximized.

• Tail stock with wide scope of usage
As the handle is designed in a double ring structure, it can be zero-set, making it
easy to carry out machining works based on measurement using a memory scale.